Cyber Threat Intelligence
Cyber Threat Intelligence (CTI) provides structured and timely information about past, present, and potential future attacks that could be a security threat to your enterprise. CTI delivers in-depth information such as URLs, domain names, files, and IP addresses that have been used to execute attacks. The information helps your organization defend itself from current attacks and respond to security incidents. 
By monitoring current threats, and correlating this information with internal data points, such as versions and patch levels –  CTI gives you actionable and accurate threat-ratings on any potential vulnerabilities which are disclosed or emerging in the threat landscape. Through this, the risk of data loss is minimized, and everyday operations can continue normally.  
Through the proper use of CTI – you can direct your cyber security investments towards mitigating the most concerning threats. 
CTI helps you focus on the most relevant cyber threats to your organization, helping you mitigate the threats in advance. Without CTI, your cyber security posture remains to be a reactive one, waiting for an incident, a theft or breach in order to work against it. CTI replaces this approach with a proactive one, through which you can block the chances of a cyber-attack in advance.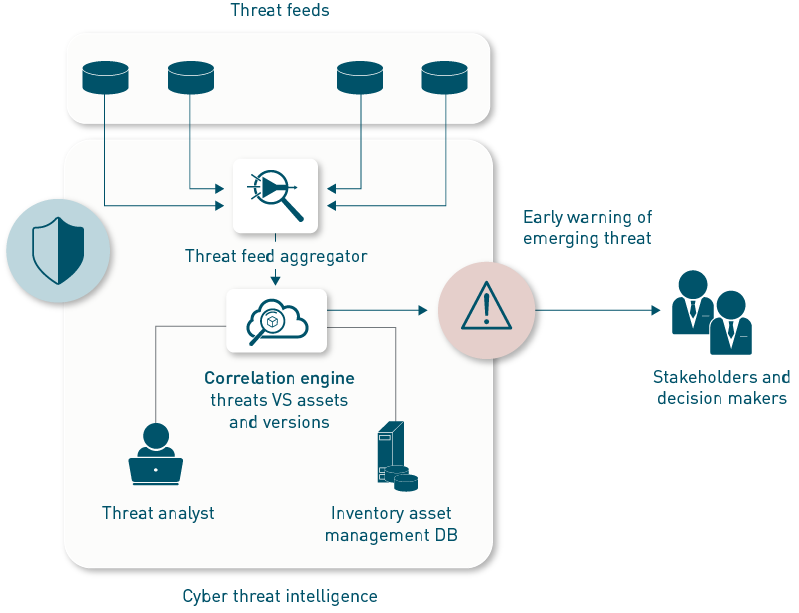 What we offer
Our Threat Intelligence service gives you the ability to stay ahead – becoming proactive instead of reactive. Helping you identify cyber security threats that could affect your organization – before they do. 
We will provide your organization with access to CTI analysts, CTI feeds and other tools that are the outcome of our partner relationships with other security organizations. 
You can use the information we supply to ensure that firewalls, IDS/IPS, gateways, SIEM solutions, e-mail security and other defenses are protecting the organization from new vulnerabilities and other threats as they emerge.   
Contact us today! 
Other services within Digital Trust Labs